Covid-19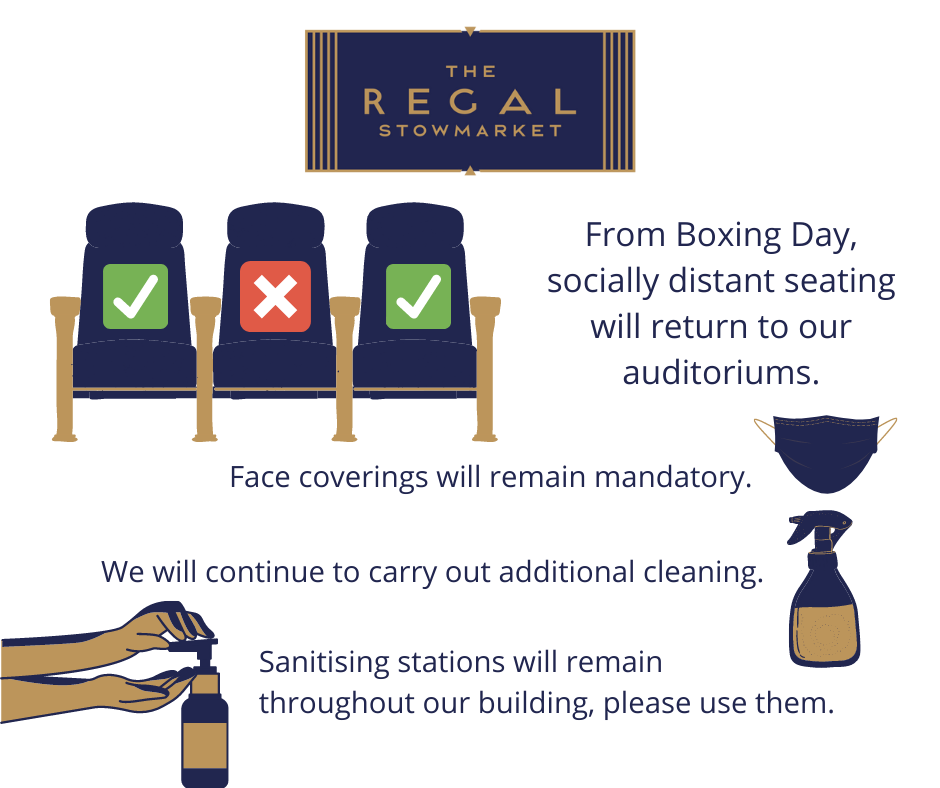 Updated: 23rd December 2021
The Regal has produced its own Covid-19 Risk Assessment which will be reviewed and updated following any further government guidance or changes to business operations.
The health and wellbeing of our customers and employees is our top priority, therefore we are doing everything we can to ensure everybody's safety whilst still providing an enjoyable cinema experience for our customers. We will continue to implement any other safeguarding measures the government adds to the current Covid-19 legislation and guidance in line with the timescales provided. Current Covid-19 safety measures at The Regal are as follows:
Covid-19 Pass
You will NOT be required to present a COVID-19 Pass to enter our venue.
Online booking
You can book tickets in person at the box office, however we encourage pre-booking online. This reduces the likelihood of queues forming at the box office counter. This in turn, minimises contact between customers and between our staff and customers.

Ordering in the Café
As of Friday 23th July, customers must come to the till point to order café drinks and/or food, a plastic screen remains in place for the safety of both staff and customers. Table service has only been available as a response to Covid-19 social distancing restrictions.
Contactless Payment
We still accept cash and chip & pin payments but ask that you pay contactlessly if you are able.


Staff
All staff receive specific Covid-19 training and will continue to wear face coverings within The Regal and The 1936 as well as conducting twice weekly lateral flow tests and washing and sanitising their hands regularly throughout their shifts.
Staggered Film Times
We are staggering the times our films start and finish to minimise customer contact at pinch points within The Regal and The 1936.
Face Coverings
Face coverings are now mandatory throughout our building for all customers over the age of 11, unless medically exempt. They may be removed within the auditoriums when eating or drinking, they must be put back on afterwards. They may also be removed when sat at a table in our café bar - The 1936.
Social Distancing
From Boxing Day (26th December 2021) we are reintroducing socially distant seating within our auditoriums. This is not being enforced by the Government at this time, but is a safety measure we feel is necessary to ensure the safety and comfort of our customers. This means that from Boxing Day, a single seat gap will be left between groups booking for the same screening. This does mean capacity will be reduced so we would encourage booking in advance to avoid disappointment. We ask customers to be mindful of others and maintain a 1+ metre distance from others throughout our building at all times. Protective screens will remain in place at till points and between tables in The 1936.
Sanitising Stations
We have numerous hand sanitising stations located through the premises, please help us keep The Regal Covid-19 free, by using them.
Additional Cleaning
Along with our usual cleaning regimes, we will continue to clean higher-risk areas and touchpoints more frequently, for example; box office counter top and door handles.
Contact Tracing
Although there is now no legal requirement to, we strongly recommend you continue to "check in" to our venue using the NHS Test and Trace app or by filling in a contact form provided by a member of staff.