Covid-19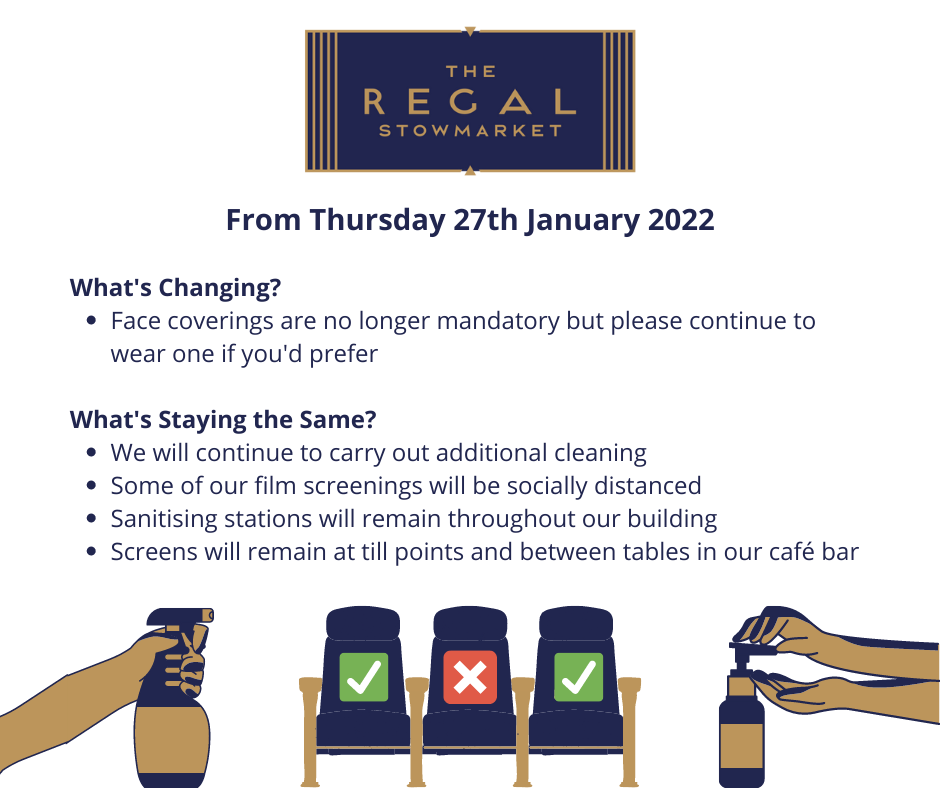 Updated: Thursday 27th January 2022
The Regal has produced its own Covid-19 Risk Assessment which will be reviewed and updated following any further government guidance or changes to business operations.
The health and wellbeing of our customers and employees is our top priority, therefore we are doing everything we can to ensure everybody's safety whilst still providing an enjoyable experience for our customers. We will continue to implement any other safeguarding measures the government adds to the current Covid-19 legislation and guidance in line with the timescales provided. Current Covid-19 safety measures at The Regal are as follows:
Online booking
You can book tickets in person at the box office, however we encourage pre-booking online. This reduces the likelihood of queues forming at the box office counter. This in turn, minimises contact between customers and between our staff and customers.


Contactless Payment
We still accept cash and chip & pin payments but ask that you pay using contactless if you are able.



Staff
All staff receive specific Covid-19 training and are encouraged to wash and sanitise their hands regularly throughout their shifts. Staff are no longer required to wear face coverings at work but may decide to as an individual preference.
Face Coverings
Face coverings are no longer mandatory but please continue to wear one if you prefer.
Social Distancing
There is now no requirement to socially distance or any limits on cinema auditorium capacities. Although the majority of film screenings will be sold to capacity, we understand not everybody will feel comfortable sitting next to other groups yet, so we will continue to offer some socially distanced screenings – please be mindful of others. Protective screens will remain in place at till points and between tables in The 1936.
Sanitising Stations
We have numerous hand sanitising stations located through the premises, please help us keep The Regal Covid-19 free, by using them.
Additional Cleaning
Along with our usual cleaning regimes, we will continue to clean higher-risk areas and touchpoints more frequently including the box office counter tops and door handles. There will continue to be additional time between film screenings, allowing us to sanitise touchpoints within the auditoriums.
Contact Tracing
Although there is now no legal requirement to, you may like to "check in" to our venue using the NHS Test and Trace app or by filling in a contact form provided by a member of staff.